The Mae S. Gelb Kosher Food Pantry, established in January 2001, was developed to provide assistance with food and other necessary household items to families and individuals during times of significant financial stress.
Clients include the elderly who may be isolated and living on a limited income, unemployed adults in need of interim assistance and members of our community who are struggling financially due to difficult family situations or declining health. Clients can make a self-referral to the Kosher Food Pantry or may be referred by family, friends and/or other social service agencies. If a client is known to this agency and receiving services in another program area, their social worker may also refer.
An appointment must be made with an agency social worker to complete a Kosher Food Pantry screening form. If determined that the client is eligible for pantry services, the worker will accompany the client to shop in the pantry area. The Food Pantry is supported by donations from the Gelb Foundation, generous community members, synagogues and
other Jewish organizations.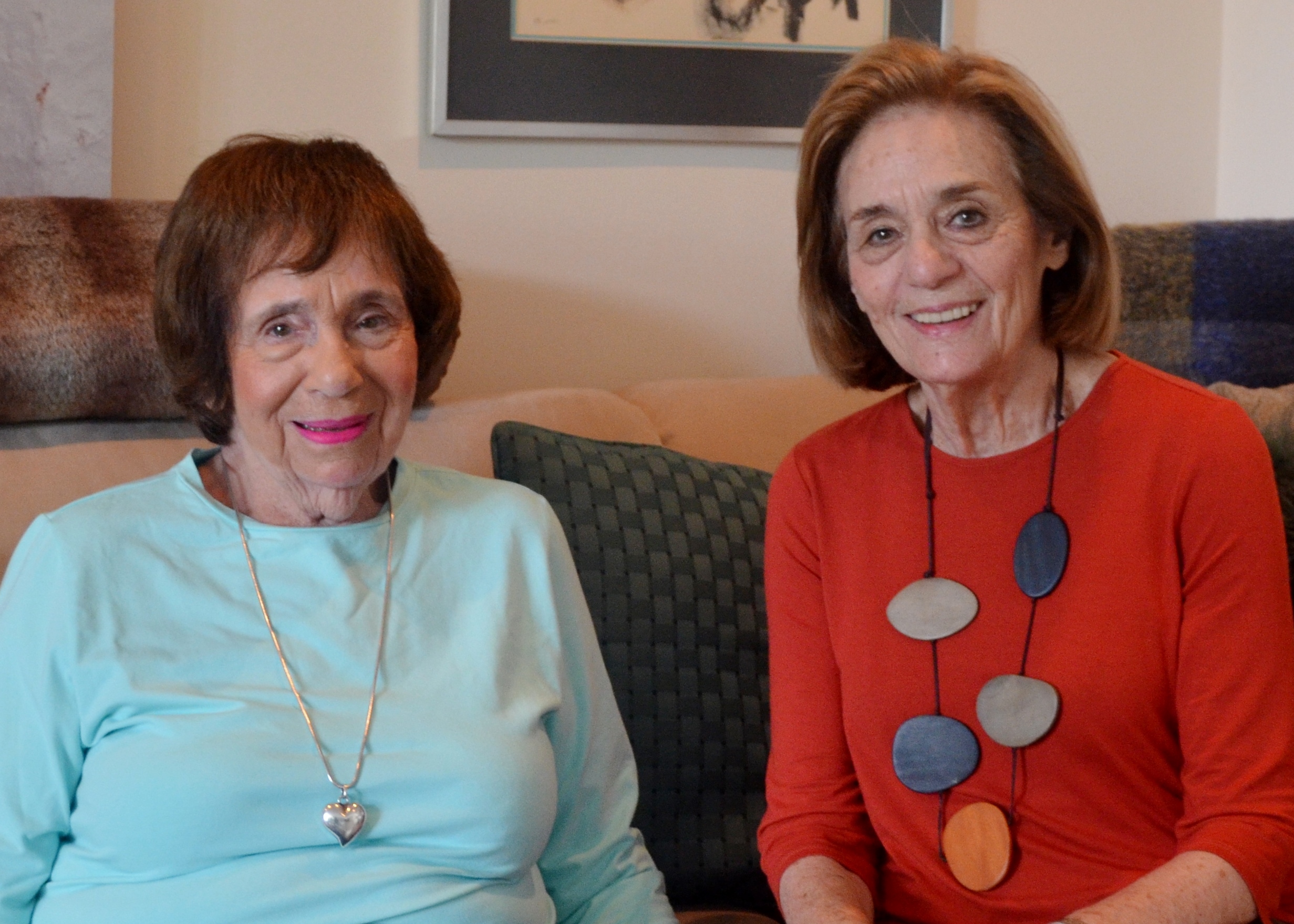 Bev Klein (Of Blessed Memory) and Sondra Myers

A Message from Sondra Myers
Both our parents enjoyed helping others. I guess you could say that it came naturally to them, although they each did it in a different way. My father was strategic and developed enduring ways to ensure that giving became an integral part of our lives. He created a foundation that of necessity was obliged to spend a portion of its money on others in need through gifts to non-profit organizations. My mother, known to all as Mae, took her giving personally. She was concerned with the needs of people she knew or heard about—whether they needed a ride or a kosher chicken or a warm coat; whether they lived next door or in another city or country. She did formalize her generosity in her will by leaving funds to create a kosher pantry at JFS for those who needed food on a regular basis. The Mae S. Gelb kosher pantry lives on, enhanced by gifts given in her memory by family and friends.
Sondra Myers
This program, in cooperation with Meals on Wheels Office of Northeastern Pennsylvania and the Jewish Home of Eastern Pennsylvania, delivers kosher meals to those in need.
Eligibility
Kosher Meals on Wheels are available to those people in our community who adhere to Kosher dietary requirements. The program serves those who are temporarily or permanently disabled and who require outside support in order to function independently at home.
Kosher Meals on Wheels provides adequate, well-balanced, home delivered meals to homebound people who are unable to shop for and unable to prepare meals for themselves.
The Meals
The meals are prepared at the Jewish Home of Eastern Pennsylvania under Kosher dietary guidelines. Meals may be meat or dairy and are based on a four-week menu cycle. Recipients may request 1 or 2 daily meals.
Kosher Meals on Wheels is able to accommodate most special diets, such as diabetic, low salt, low fat, chopped, etc.
The meals are fully cooked but are cold when delivered each day. The recipient can re-heat the meal in the oven or toaster oven after the lid is removed. The meal can also be transferred from the foil container to a microwave-safe plate for microwave heating.
Cost of the Meals
Kosher Meals on Wheels are provided at the cost of $6.00 per meal. Meal recipients are billed monthly by the Jewish Family Service.
Funding for meals may be available from the Lackawanna County Area Agency on Aging for senior citizens who have a lower income and meet the full guidelines. This determination is made by a care manager from the Area Agency on Aging.
There is also limited funding available from the Lackawanna County Human Service Development Fund for those under age 60 who are physically disabled.
Delivery
Volunteers pick up the meals from the Jewish Home and deliver them to the homes of the meal recipients. Meals are delivered every day, Monday through Friday, usually between the hours of 8:30 a.m.-10 a.m. Some recipients receive a Saturday meal, which is delivered on Friday. There are occasional changes in the delivery schedule for holidays or inclement weather. Recipients are notified of these changes. Recipients must be home to receive meals.
To Enroll
If you are interested in receiving Kosher Meals on Wheels, simply contact Jewish Family Service of Northeastern Pennsylvania at (570) 344-1186. The Coordinator of Older Adult Services will make an appointment to visit you at your home to review the program and start the service.
Volunteers
Volunteers who deliver the meals are interviewed and screened by Jewish Family Service. These volunteers not only bring a nutritious meal to your home, but also provide a friendly greeting and an important safety check for each individual who receives a meal.
JFS introduced our Fresh Produce Pantry two years ago. With produce and chickens donated, we were able to provide onions, potatoes, carrots, apples and chickens to those in need during Passover and Rosh Hashanah. The program is an extension of the Mae S. Gelb Food Pantry and our Holiday Assistance program.