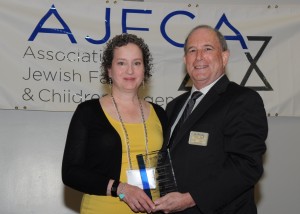 The Association of Jewish Family & Children's Agencies (AJFCA) honored JFS NEPA Executive Director Sheila Abdo at this year's annual conference in Miami with the Distinguished Service Award which is awarded to member agency CEO's/ED's who have worked for more than 20 years in the Jewish Communal Service field.
Sheila Abdo has been Executive Director of Jewish Family Service of Northeastern Pennsylvania (JFS NEPA) since 1995, prior to that she was a Social Worker for the organization. Under her leadership, JFS has developed into a comprehensive social service agency serving not only Lackawanna County but expanding into the surrounding regions of the Pocono area, doubling in both staff and revenue. Sheila was responsible for bringing the agency through a total office renovation which professionalized the agency for both staff and clients. Many new programs were developed during this time to include Holocaust Survivors Assistance Service, the Mae S. Gelb Kosher Food Pantry, Guardianship of Person Service and a wellness series that partners with the business community targeted specifically to the Baby Boomer population.
Sheila has helped to develop a positive reputation for the agency which serves both the Jewish and general community.
The award was presented to Sheila by Lee I. Sherman President/CEO of the Association of Jewish Family & Children's Agencies (AJFCA)