The Second Annual Community Matters Recognition Event was attended by over 130 people on May 24, 2017 and raised over $36,000 for JFS!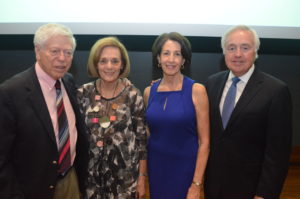 The event honored Morey and Sondra Myers for their dedication to the community both locally and globally as well as their contributions to JFS. Former Chief to US Senator Robert P. Casey, Jr and PA Governor Robert P. Casey, Mr. James Walter Brown was the guest speaker for the evening.  Sondra and Morey's son David Myers, a professor of Jewish History at UCLA, closed the evening with an emotional speech thanking his parents for their inspiration, love and dedication.
A silent auction was held with items from local businesses and the event was sponsored by over 70 corporate sponsors and community individuals.
Geisinger Commonwealth School of Medicine hosted the event which was catered by Prestige Caterers and music for the evening was provided by Daniel Jaggers and Ian Hipps courtesy of the Northeastern Pennsylvania Philharmonic.
Pictured in photo: Morey Myers, Sondra Myers, Lynne Brown and James Walter Brown